Rozhovor se Sárou Zrníkovou, která získala ocenění Student-sportovec Jižní konference USA roku
Sára Zrníková, svěřenkyně Golfové akademie Skopový, získala prestižní ocenění studenta-sportovce roku 2019/20. V článku přinášíme přepis článků z mateřské univerzity a rozhovor pro týdeník Ústecko.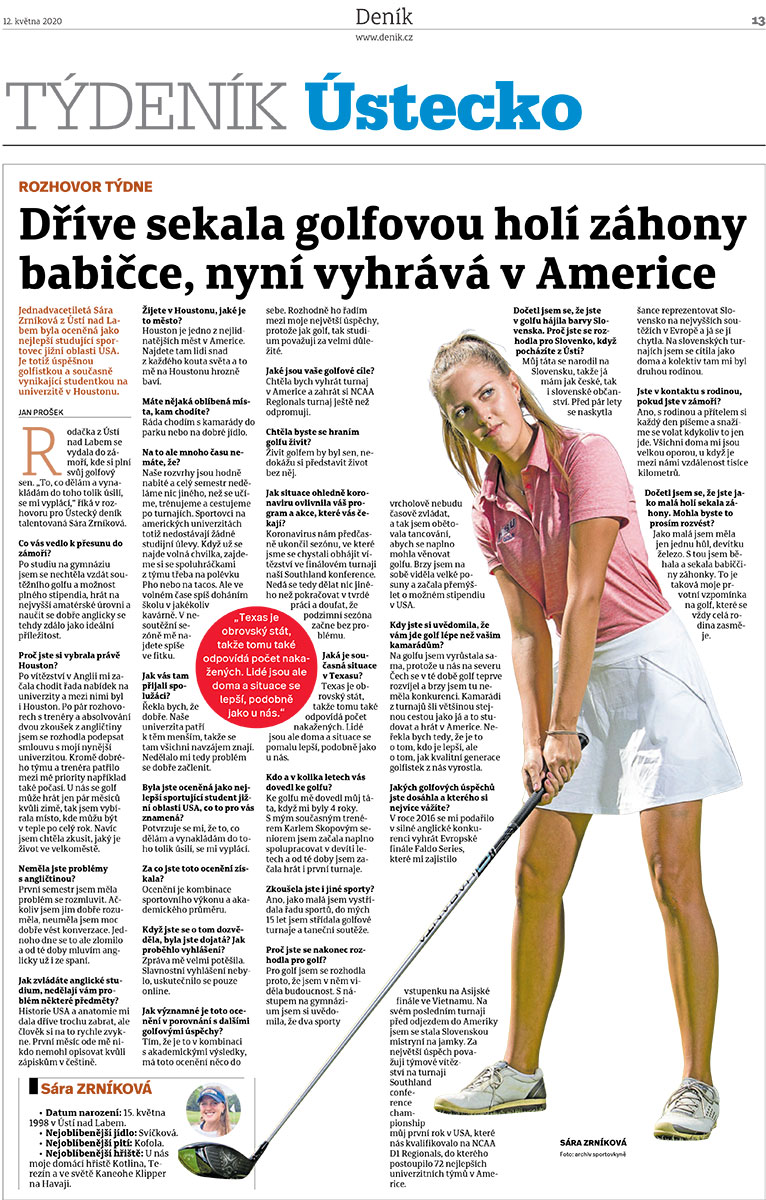 (klikněte na obrázek pro zobrazení verze v PDF)  
Článek na webu Southland conference
FRISCO, Texas – Houston Baptist's Sara Zrnikova is the 2019-20 Southland Conference Women's Golf Student-Athlete of the Year, the league announced Wednesday. In addition to the announcement of the yearly award, the academic all-conference teams were also released. Student-Athlete of the Year awards are presented by GEICO.
Zrnikova headlines the 2019-20 academic all-conference teams as a first-team selection, earning her spot for the second-consecutive year. The junior holds a 3.96 grade-point average as a kinesiology major and is a Chi Alpha Sigma member, an honor society meant to recognize collegiate student-athletes who hold a GPA of 3.40 or higher. Zrnikova closed out the 2019-20 season ranked sixth in the conference averaging a score of 75 over 21 rounds. She pushed the Huskies to a team victory at the Bearkat Women's Invitational (Sept. 30-Oct. 1).
Houston Baptist tops the academic teams with four selections in total as Zrnikova was joined by Tiffany Nguyen on the first team and second-teamers Grace Cassity and Alisa Chong. Both Zrnikova and Chong make their way onto the all-academic rosters as repeat members.
Sam Houston State comes in next with a pair of first-team honorees in sisters Hanna and Leah Alberto. The Bearkat duo pushed their squad to a pair of tournament victories over the course of seven invitationals throughout the year. Hanna, a senior, makes her way on the all-academic squad for the third time of her career.
Central Arkansas' Elin Kumlin, UIW's Gracie Aday, Stephen F. Austin's Alexandra Batista and Texas A&M-Corpus Christi's Kelli Ann Dugan round out the all-academic rosters.
The all-academic teams are voted on by a head coach, sports information director and an academic/compliance staff member from each Southland Conference institution. Student-athletes must possess a 3.0 cumulative GPA and completed one full academic year at the nominating institution to qualify for All-Academic selection.
The Southland Conference awards committee, which consists of one administrator from each of the 13 member schools, votes for the student-athlete of the year. The Southland student-athlete of the year award is presented to one student-athlete who achieves excellence in both academics and athletics. All nominees must have earned at least a 3.2 GPA on a 4.0 scale and demonstrated athletics achievement for at least two years at the nominating institution.
[Zdroj:https://www.southland.org/news/2020/4/21/hbus-sara-zrnikova-tabbed-2019-20-womens-golf-student-athlete-of-the-year.aspx ]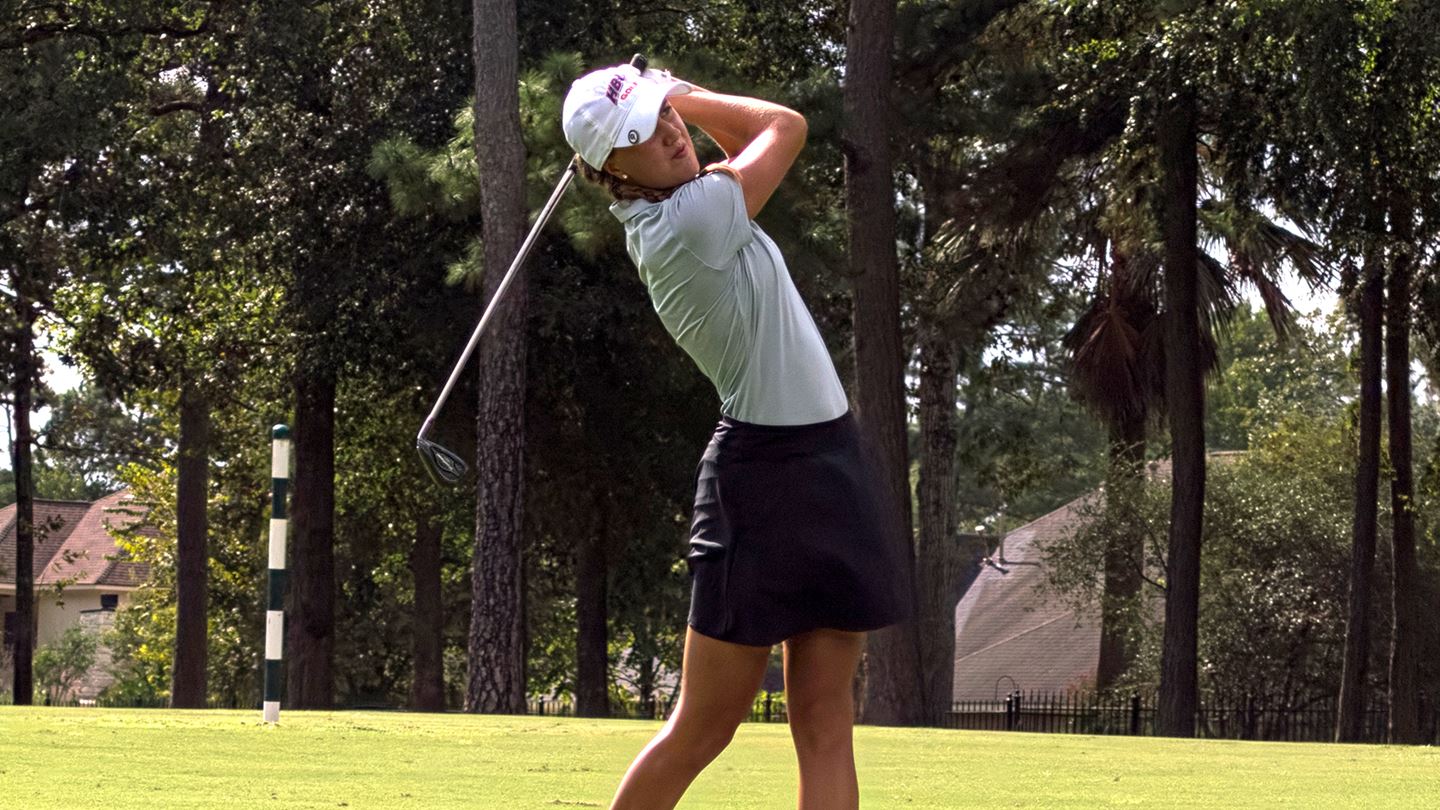 Článek na oficiálním webu HBU Athletics
FRISCO, Texas – HBU junior Sara Zrnikova has been selected Southland Conference Women's Golf Student-Athlete of the Year, as the league office announced the sport's All-Academic Teams Wednesday.
 
Zrnikova is a kinesiology major from Usti nad Labem, Czech Republic, who has achieved a 3.96 GPA. She ranked sixth in the Southland Conference according to Golfstat's ranking system and was second on the team with a 74.33 stroke average. Zrnikova recorded five top-20 finishes, including three in the top 10 and one top five. She posted two of the Huskies' four season-low rounds of 3-under par 69, first in the opening round of the USA Intercollegiate and in the final round of the Pat Lesser Harbottle Invitational. Zrnikova tied for fifth at the USA Intercollegiate with a score of 2-under par 214, tied for eighth to help HBU to the team title at the Huntsville Toyota Bearkat Invitational and tied for seventh in the final tournament of the spring at the Islander Classic.
 
As a freshman, Zrnikova earned All-Southland Conference honorable mention and was named to the Southland Conference All-Academic Team as a sophomore. In her two Southland Conference Championship appearances, she tied for seventh as a sophomore and ninth as a freshman in helping the Huskies capture their second-straight title.
 
Zrnikova was joined on this year's all-academic first team by sophomore teammate Tiffany Nguyen, while sophomore Grace Cassity and senior Alisa Chong made the second team. Read more about Nguyen, Cassity and Chong by clicking here.
 
The Southland Conference All-Academic Teams are voted upon by the league's head coaches, sports information directors and academic advisors. Nominees must have at least a cumulative 3.0 GPA and completed one full academic year at the nominating institution. The Student-Athlete of the Year is chosen by a league committee and nominees must have at least a 3.2 GPA and two years of athletic achievement at the nomination institution.
[Zdroj: https://hbuhuskies.com/news/2020/4/22/womens-golf-wgolf-zrnikova-named-slc-student-athlete-of-the-year.aspx ]